An index of open-access racism-related content relevant to primary care, as well as a bibliography of literature on racism and health disparities. For notifications when new content is added to this collection, please follow @AnnFamMed on Twitter.
Last updated 12 Oct 2020 7:58 EST
Share the Systemic Racism and Health Disparities statement and collection with your colleagues and social media network! Access the media kit for downloadable graphics and copy-and-paste tweets and text to share.
---
Sumi M. Sexton, MD; Caroline R. Richardson, MD; Sarina B. Schrager, MD, MS, FPM; Marjorie A. Bowman, MD; John Hickner, MD, MSc; Christopher P. Morley, PhD, MA; Timothy F. Mott, MD; Nicholas Pimlott, MD, PhD; John W. Saultz, MD; Barry D. Weiss, MD
The year 2020 has been marked by historic protests across the United States and the globe sparked by the deaths of George Floyd, Ahmaud Arbery, Breonna Taylor, and so many other Black people. The protests heightened awareness of racism as a public health crisis and triggered an antiracism movement. The editors of several North American family medicine publications have come together to address this call to action and share resources on racism across our readerships. Published, January, 2021. DOI: 10.1370/afm.2613
Shailendra Prasad MBBS MPH, Andrea Westby MD, Renee Crichlow MD

The authors describe the aftermath of a Family Medicine clinic that was looted and vandalized during the demonstrations in the aftermath of the brutal murder of George Floyd by an officer of the Minneapolis Police department. "The significant stress that healthcare systems have faced with COVID19 has led to a recognition that we have designed systems that are "person-centric rather than community centric". Understanding what constitutes this community is key to understanding the role that Family Medicine has to play in the future." Published, January, 2021. DOI: 10.1370/afm.2628
Dr. Marshall Chin
To date short-term funding and policy fixes for the COVID-19 pandemic have focused on saving the current health care system; policies have not maximized the population's health, prioritized the safety net, or addressed our most vulnerable neighbors. We need to plan reforms now. The author discusses three lessons that could guide these reforms. Published, January, 2021. DOI: 10.1370/afm.2630
Benjamin Kaplan
A fourth year medical school student discusses telehealth's utility during a viral pandemic, but also its potential as a powerful tool for expanding access to care and promoting health equity over the coming years. The limitations of telehealth, including the challenge of performing a physical exam and maintaining emotional connection across physical distance, are further challenged by inconsistent availability of Broadband internet, as well as a lack of standardized reimbursement procedures for telehealth visits. Published, January, 2021. DOI: 10.1370/afm.2633
J. Nwando Olayiwola
Medicine has historically been a field where the provider (physician, nurse) has significantly greater power than the recipient (the patient). The author shares a personal experience in which a racist rant by a patient seemingly reverses this dynamic, forcing her to call upon tools that allowed for her resilience. She writes, "It is my hope that this paper will strengthen other family physicians and professional minorities that are victims of racism, discrimination, and prejudice for their race, sex, ability, sexual orientation, religion, and other axes of discrimination." Published May 2016; DOI: https://doi.org/10.1370/afm.1932
Max J. Romano
The author reflects on the ways racial privilege influenced his experience as a white physician in training. While white Americans often think of "racism" as a social construct primarily affecting people of color, "racism" is a system of both racial disadvantage as well as reciprocal racial advantage. Medical professionals are increasingly aware of how social determinants of health lead to important health disparities, however white physicians seldom ask how their own racial privilege reinforces a white supremacist culture and what effects this may have on our patients' health. Published May 2018; DOI: https://doi.org/10.1370/afm.2231
Frederick M. Chen, George E. Fryer, Robert L. Phillips, Elisabeth Wilson and Donald E. Pathman
Using telephone survey data, we explored patients' beliefs about racism, their preferences for the race and ethnicity of their physician, and their satisfaction with that physician. Race-stratified analyses assessed associations between patients' beliefs, racial preferences for physicians, choice of physician, and satisfaction with care. Results show many African Americans and Latinos perceive racism in the health care system, and those who do are more likely to prefer a physician of their own race or ethnicity. African Americans who have preferences are more often satisfied with their care when their own physicians match their preferences. Published March 2005; DOI: https://doi.org/10.1370/afm.282
Robert L. Ferrer
The objective of this study was to examine current use of primary and specialty care across the US population for policy-relevant subgroups, such as disadvantaged populations and persons with chronic illness. Results showed that Primary care clinicians, especially family physicians, deliver a disproportionate share of ambulatory care to disadvantaged populations. A diminished primary care workforce will leave considerable gaps in US health care equity. Health care workforce policy should reflect this important population-level function of primary care. Published November 2007; DOI: https://doi.org/10.1370/afm.746
---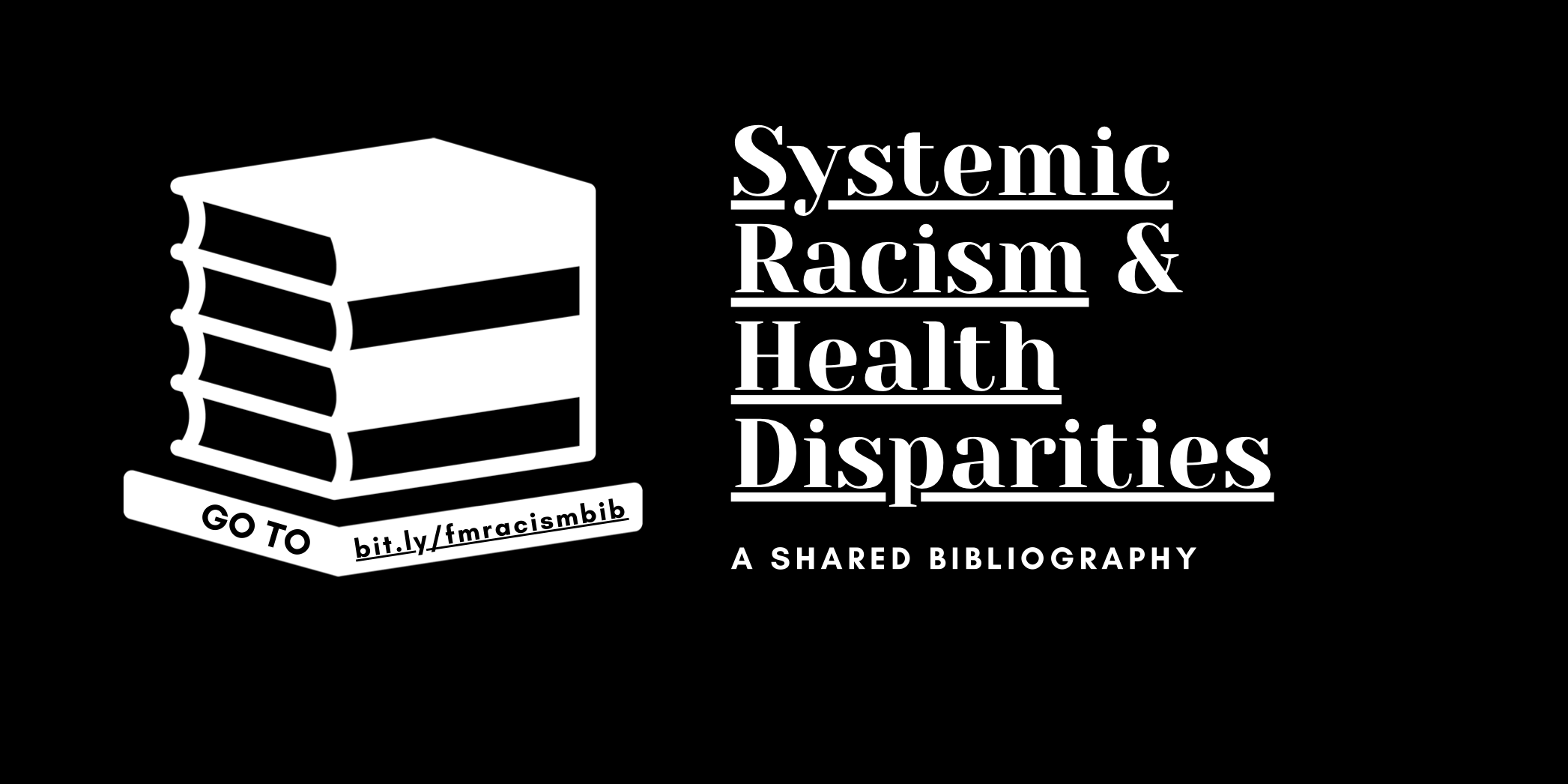 A bibliography of scholarship generated by the family medicine community on the topic of racism in medicine.