Every issue, we select an author to co-host an online discussion on Twitter. The featured author's work is the seed that starts the online discussion, with the goal of exploring the ins-and-outs of primary care research and innovation together with authors and readers. These events are open to the public, and you do not need a Twitter account to follow along. To participate, find the event time below. Follow the chat moderator (@annfammed) and our chat hashtag #AnnalsChat.
Upcoming Chat
September 29, 1 to 2PM EDT: Providing Medical Abortion Services in Canada and Changes in the Regulation of Mifepristone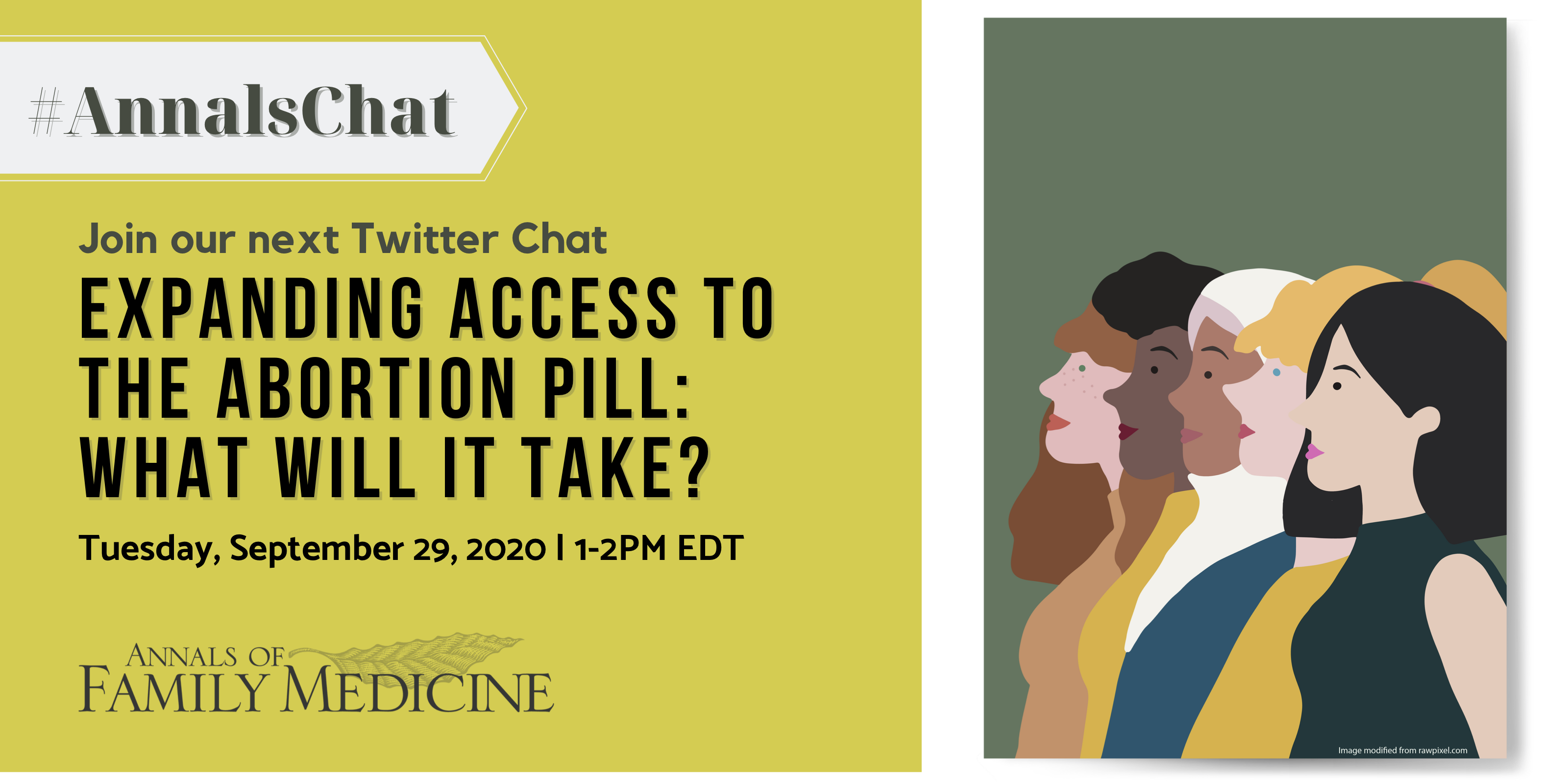 Sarah Munro PhD, @DrSarahMunro, Assistant Professor in the Department of Obstetrics & Gynaecology at the University of British Columbia
Wendy V. Norman, MD, MHSc, @wvnorman, Associate Professor, Department of Family Practice, University of British Columbia
Find Munro et al's original research Perspectives Among Canadian Physicians on Factors Influencing Implementation of Mifepristone Medical Abortion: A National Qualitative Study in the latest issue.
Download a calendar event reminder (.ics) for Google Calendar and iCal
Chat Questions
Canada eased restrictions on the abortion pill mifepristone in 2017. What rules were changed?
What was the reaction from the primary care & pharmacy community in Canada to the introduction of mifepristone and its deregulation?
What challenges did clinics and health care professionals face in the implementation and deregulation process?
With deregulation, Canadians are now able to take mifepristone in the comfort and privacy of their homes. Why should this matter to primary care and the average family doctor?
How has the pandemic and virtual care impacted access to the abortion pill?
What else needs to be done to improve access to mifepristone in Canada?
What recommendations do you have for health care professionals who want to advocate and offer more self-managed and equitable family planning health services?
Twitter Chat FAQs
What if I don't use Twitter?
No problem, you will be able to follow along or see our archived conversations (under the hashtag #AnnalsChat), but you won't be able to comment follow along
If you are new to Twitter, #AnnalsChat is the perfect opportunity to practice. We are a welcoming, non-judgemental, and drop-in style bunch of clinicians, health care professionals, researchers, and research staff interested in primary care topics. Come as you are. We encourage you to log into your account or create an account, then follow us (@annfammed) and our chat hashtag #AnnalsChat
What is a hashtag?
A hashtag starts with the # followed by a word or phrase. It is hyperlinked, meaning, when you click on it within twitter.com, you will see all public tweets that also used that hashtag. It is a way to categorize and index information on a given topic. Anyone can use a hashtag, create a new hashtag, and see what tweets are indexed on a given hashtag. The power of hashtags is in their collective use. #AnnalsChat is made useful and informative when members of the Annals of Family Medicine community use it to share and discuss relevant thoughts and information.
What happens during a Twitter chat?
During the designated hour, we will pose 5-10 questions on a given topic that anyone can respond to. We will post the first question like "Q1: What is..." along with a graphic and the hashtag #AnnalsChat. People with Twitter accounts can respond, and anyone can follow along.
How do I participate?
Past Chats