A rapidly updated index of open-access COVID-19-related preprint content relevant to primary care. For push notifications when new content is added to this collection, please follow @AnnFamMed on Twitter.
Last updated 19 June 2020 1:51 CST
---
Browse the Collection by Topic


Latest Works
Romain Lutaud, Dimiti Scronias, Jeremy Ward, and Pierre Verger
France has been at the epicenter of the worldwide debate about hydroxychloroquine, as the main publications advocating its use to treat COVID-19 come from a research unit led by Didier Raoult in Marseille. The objective of this study was to determine the impact of this debate on the opinions and practices of French primary care physicians.
Nonrefereed, online collection only. Permanent URL: http://hdl.handle.net/2027.42/156030
Jahnes, Katherine, MD; Hopkins, Kathleen; Foote, Emily, MSW; Fleisher, Diana, MD; Doran, Kelly M., MD, MHS

In this report we describe creation of a novel emergency department (ED) food bag program in New York City. The food bag program was designed to help meet immediate food needs of patients being discharged from the ED. Each bag contained shelf-stable food as well as a handout describing other community food resources. The program leveraged community-hospital partnerships, was met with enthusiasm from patients and staff alike, and would be highly replicable to other settings. 6 July 2020. Nonrefereed, online collection only. Permanent URL: http://hdl.handle.net/2027.42/156010
Rebecca Etz, Advisory Group, Larry A. Green Center
"Cases have been surging for the past couple of weeks. I am frustrated at the lack of state leadership not allowing local elected officials to stop the phased reopening, reinstate stay at home orders, and require masks." Texas. On Friday, March 13, 2020, The Larry A. Green Center launched its first weekly Quick COVID-19 Primary Care Survey to assess the impact of COVID-19 on practices. This survey has since been repeated weekly. These are the results from week 15. 2 July, 2020. Nonrefereed, online collection only. Permanent URL: http://hdl.handle.net/2027.42/155877
Brianna D. Sullivan, MPH, Karen Bogen, PhD, MA, Nancy Duda, PhD, MA, Deborah N. Peikes, PhD, MPA
Traditional patient experience measures may not fully capture the changes quickly transpiring in patient care due to COVID-19. This paper presents a questionnaire that could be a helpful starting point. The questionnaire addresses topics such as telehealth and non-visit-based care; care by non-physicians; discussion about end-of-life preferences, domestic violence, social health needs; and primary care follow-up after acute care 22 June 2020. Nonrefereed, online collection only. Permanent URL: http://hdl.handle.net/2027.42/155624
Previously Published in the Annals - Telehealth
Initial Implementation of a Web-Based Consultation Process for Patients With Chronic Kidney Disease
Nynke D. Scherpbier-de Haan, MD, et al, Department of Primary and Community Care, Radboud University Nijmegen Medical Centre, Nijmegen, The Netherlands.
A Web-based consultation system between family physicians and nephrologists reduces the number of referrals and appears to improve treatment appropriateness among patients with chronic kidney disease. The authors assert these findings support the introduction of telenephrology in primary care as a means of delivering higher quality, more convenient care at a lower cost. They conclude that on a broader scale, e-consultation has the potential to break down walls between primary and specialty care.
Connecting People With Multimorbidity to Interprofessional Teams Using Telemedicine
Jocelyn Charles, MD, MScCH, et al, Department of Family and Community Medicine, University of Toronto, Toronto, Ontario, Canada.
This study assessed the feasibility, cost, and satisfaction of a synchronistic telemedicine model that connected patients with multimorbidities with a primary care team that included primary care physician, telemedicine-trained nurses, specialists from psychiatry and internal medicine, as well as a social worker, pharmacist, home care and community coordinator, and other professionals as appropriate, based on the patient's needs. All 74 patient survey respondents indicated the intervention improved their access to interdisciplinary resources, and 97% reported feeling hopeful their conditions would improve as a result. Of 21 PCP survey respondents, 100% reported they would use the model intervention again, and 90% reported improved confidence in managing their patient's care.
Patient Perceptions of Telehealth Primary Care Video Visits
Kristin L. Rising, MD, MSHP, et al, Department of Emergency Medicine, Sidney Kimmel Medical College at Thomas Jefferson University.
This qualitative study of 19 adult patients interviewed after video visits with their primary care clinician found that patients accept and even prefer video visits to in-person office visits. Participants reported feeling comfortable talking with their clinicians over a video call, and they identified convenience and decreased costs as benefits. Primary concerns with video visits concerned privacy, including potential for work colleagues to overhear conversations, and questioning the ability of the clinician to perform an adequate physical examination.
Expanding Primary Care Access: A Telehealth Success Story
M.R. Gonçalves, RN, et al, Universidade Federal do Rio Grande do Sul (UFRGS) School of Medicine, Porto Alegre, Brazil.
The authors describe a telemedicine project in Brazil that included the development of a teleconsulting hotline, increased efficiencies in referral protocolas, and telediagnosis services. They briefly discuss the program's impact on increasing access to specialist consultations, diagnostic testing, and specialized medical advice to physicians.
Family Medicine COVID-19 Front Lines Blog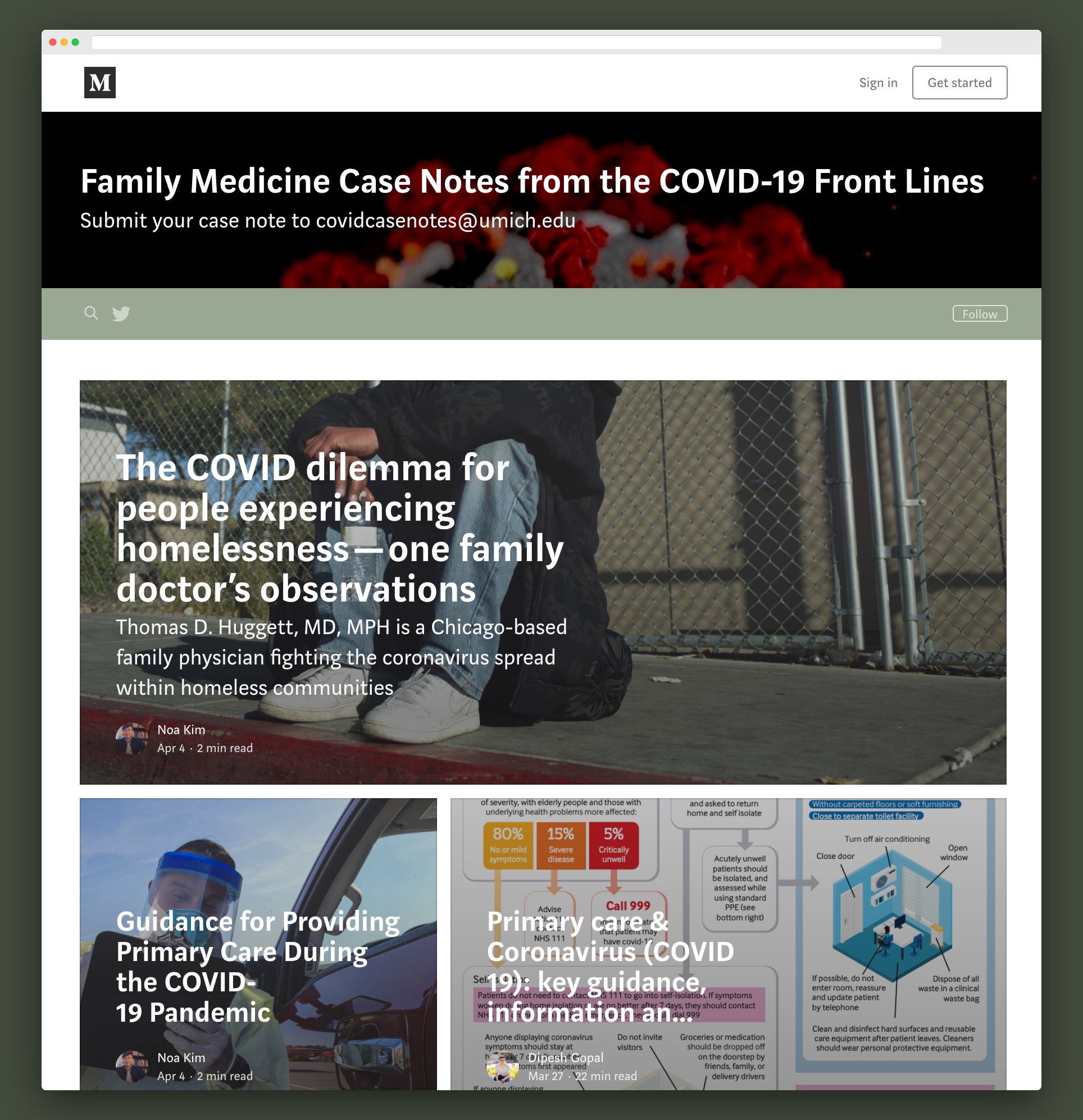 Introducing our new blog for family medicine case notes from the COVID-19 front lines. This is a non-refereed extension of the COVID-19 online collection. Submit your case notes and on-the-ground primary care experiences to our covidcasenotes@umich.edu team.
Published in External Sources
Editorial: An All-Hazards Approach to Pandemic COVID-19: Clarifying Pathogen Transmission Pathways Toward the Public Health Response (Journal of Environmental Health, published May, 2020) by Christopher Eddy, MPH, REHS, CP-FS, Richard Schuster, MMM, MD, FACP, FRCP (Edin), Eriko Sase, PhD
Covid-19: A Remote Assessment in Primary Care (BMJ published online 25 March 2020) - Trisha Greenhalgh, Gerald Choon Huat Koh, Josip Car
Essay: I'm a Family Doctor Fighting Against Fear and Struggling With Distancing While Trying to Keep my Patients Healthy - (The Conversation published 25 March 2020), Tammy Chang, MD, MPH, MS, family physician
COVID-19 Literature Digital Library compiled by Sachin Shah, MD, MPH UCSF @sachinjshah
Essay: Covid-19: Don't Forget the Impact on US Family Physicians - (BMJ published 26 March 2020), Douglas Kamerow, Robert Graham Center
Editorial: Covid-19 is Harshly Testing our Capacities as Physicians and Medical Staffers - (Washington Post published 28 Marhc 2020), Ishani Ganguli, MD, MPH @IshaniG
Essay: Medicine: Before COVID-19, and After - (The Lancet published 31 March 2020), Margaret McCartney, General Practioner, @mgtmccartney
Letter: Postacute Care Preparedness for COVID-19: Thinking Ahead - (JAMA published 25 March 2020), David C. Grabowski, PhD and Karen E. Joynt Maddox, MD, MPH
Guidance for Outpatient Management of COVID-19 - (Live Google document), Jill Fenske MD, Jenna B. Greenberg MD, Elizabeth K. Jones MD, Nell Burger Kirst MD, Feranmi Okanlami MD, MS, Daniel S. Oram MD, Jacob Wasag MD, University of Michigan Medical School Department of Family Medicine
Discussion: In the comments: A 20 March 2020 JAMA editorial calls on readers to share their "creative immediate solutions for how to maximize the use of PPE, to conserve the supply of PPE, and to identify new sources of PPE."
Additional Resources
Centers for Disease Control and Prevention (CDC) - Coronavirus (COVID-19)
National Institutes of Health (NIH) - Coronavirus (COVID-19) Resources and Updates
World Health Organization (WHO) - Coronavirus disease (COVID-19) Pandemic
American Academy of Family Physicians (AAFP) - COVID-19: The Latest Updates
Society of Teachers of Family Medicine (STFM) - Medical Education During the COVID-19 Pandemic
American Medical Association (AMA) - COVID-19 (2019 Novel Coronavirus) Resource Center for Physicians
The Hastings Center - Ethics Resources on the Coronavirus (Covid-19)
COVID-19 Health Literacy Project - Downloadable factsheets in 30 languages, developed by Harvard Medical School students, vetted by faculty clinicians, in collaboration with Harvard Health Publishing