Last updated July 6, 2022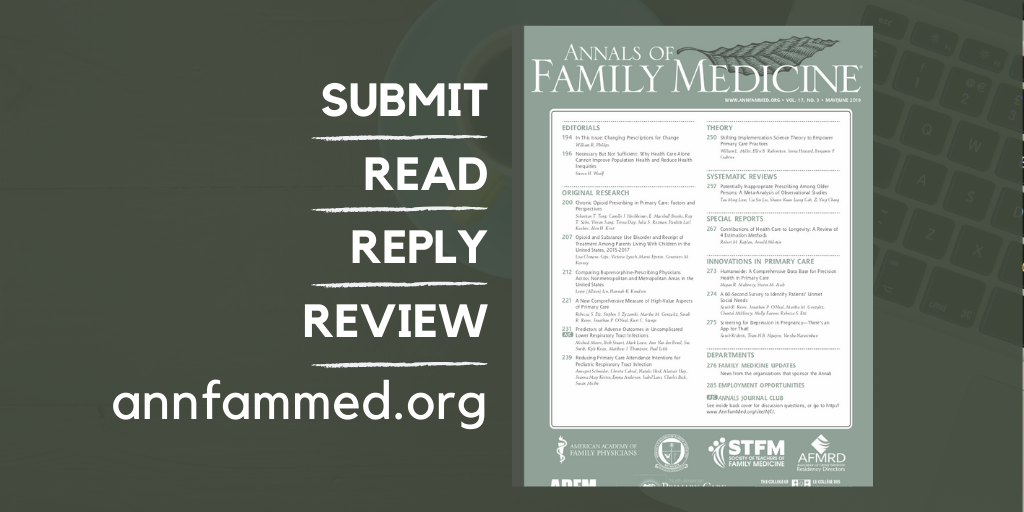 Publish your research
The Annals of Family Medicine publishes six times a year. We are an open access, free to publish original research journal and the top-ranked journal for primary health care research, according to the 2022 Clarivate Analytics Journal Citation Reports' rankings,with a Journal Citation Indicator of 2.58. Submit your work.

The Annals of Family Medicine publishes a broad range of content, from theory development to rigorous quantitative and qualitative research, to the application of research in practice, to the development and implementation of policy. We include opportunities for authors to amplify their work via audio podcast interviews, live webinars, visual abstracts, Twitter chats, and more. Learn More
Become a reviewer
Peer reviewers power our mission to advance knowledge essential to understanding and improving health and primary care. Sign up to become a reviewer, or update your existing reviewer profile at https://afm.msubmit.net. Learn More
How to update your reviewer profile
1. Navigate to https://afm.msubmit.net and log in, or, if you are a new user, click on "New users: please create an account" at the bottom of the page.
2. Once you're logged in, click on the "General Tasks" button.
3. Click on Modify Profile/Password
4. Scroll down to "Will you consider being a Reviewer for this journal?" and update your preferences.
5. Save. Thank you!
Subscribe to our e-Table of Contents
Keep up to date with research and scholarship in family medicine and primary care by joining our email mailing list. We send an e-Table of Contents with each new issue, six times a year.
Follow us on Twitter and Facebook
Follow the Annals on Twitter @AnnFamMed. Non-Twitter users, browse our page for the latest: https://twitter.com/AnnFamMed. Show your support for the journal by liking our Facebook page.
Follow @annfammed on Twitter
Join the discussion online.
Annals Journal Club: Dig deeper into a featured article, with posted journal club discussion questions from the Annals editors. See the latest selection and questions. Respond on your own time by submitting an eletter. More info on AJC
(mini) Grand Rounds: In a virtual event designed for busy professionals, the Annals of Family Medicine selects authors of original research published in the journal to present an overview of their findings and implications for family medicine practitioners – in 30 minutes or less. The event is free with registration and a lightly-edited version is available on youtube. View the full playlist.
Twitter Chats: Periodically, we select an author or authors to co-host an online discussion on Twitter centered around a featured article from the latest issue of the journal. These events are open to anyone, and you do not need a Twitter account to follow along. Follow the chat moderator (@annfammed) and our chat hashtag #AnnalsChat.
Chat Archives
eLetters: Did you read an article that got your wheels turning? You can respond to articles right on our website using eletters. Every Annals online article has a "Submit a Comment" link. Click on it and submit your eletter, or browse the latest eletters submitted to AnnFamMed.
How to submit an eletter in response to an AnnFamMed article:
Click on the "eletters" tab at the top of the article page
Click on "Submit a response to this article" link
Compose your response in "Contents" window
Be sure to complete author information and COI statement forms
Click the "Submit" button at the bottom of the page