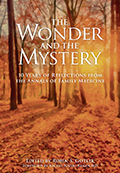 "Primary care is not only a work of science, primary care is a front row seat on life, a rare glimpse of the wonder and mystery present below the surface of the ordinary"
From the Foreword by Rachel Naomi Remen, MD
The Annals of Family Medicine is proud of The Wonder and The Mystery: 10 Years of Reflections from the Annals of Family Medicine, published in 2013.
The Wonder and the Mystery is an anthology of intimate personal stories and innovative ideas from the Annals' Reflections section. It includes a wide range of articles, from influential pieces on urgent topical issues to exceptional stories of unique individuals. These articles shed light on small moments and major life transitions. In the process, they help us find meaning in our own physical, emotional, and spiritual journeys.
The one-of-a-kind stories and ideas in The Wonder and the Mystery speak to all of us who are interested in health care and health, caring and connection: clinicians, patients, family members, researchers, policy makers, and more. Framed by the remarkable wisdom of Rachel Naomi Remen, the book reminds us that, "The things we cannot measure may be the very things that will sustain us."
How to Order
To order your copy of The Wonder and the Mystery visit: CRC Press (Select your country at the top of the page), or Amazon.com.